Summer Camp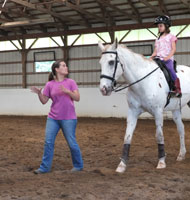 These one week sessions are full of information as well as fun!
We cover all areas of horse care including grooming, bathing, anatomy, and care of the tack/equipment and stable. Everyone will get a private riding lesson each day! Returning campers will take their knowledge to the next level, after instructor's assessment.
Ages 8 and up.
Monday through Friday, 12:30-3:00 pm.
Limited enrollment - 8 students per session.
Enrollment fee: $299.00
Students must wear hard-soled shoes with a heel and a safety helmet. Bring your own helmet or use one of ours.
No sneakers, sandals or shorts.
2019 Registration form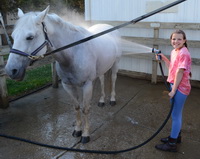 June 10 - June 14~~ SOLD OUT
June 24 - June 28~~ SOLD OUT
July 8 - July 12~~ SOLD OUT
July 22 - July 26~~ SOLD OUT
August 5 - August 9~~ SOLD OUT
August 12 - August 16~~ SOLD OUT