Summer Camp
***IMPORTANT UPDATES***
***All camp dates are now full***
We are creating a wait list for the summer camps in case there are cancellations.
To be put on the list please email your interest to northcrest44@aol.com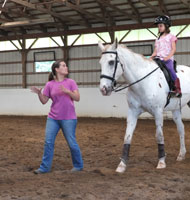 These one week sessions are full of information as well as fun!
We cover all areas of horse care including grooming, bathing, anatomy, and care of the tack/equipment and stable. Everyone will get a private riding lesson each day! Returning campers will take their knowledge to the next level, after instructor's assessment.
2021 SUMMER CAMP INFORMATION
Due to the COVID-19 restrictions placed upon us we will be making changes in our program to be able to still have the Summer Camps while practicing social distancing and sanitizing measures.
Camp sessions will now be limited to 6 children (ages 8 and up).
Camp will run Monday thru Friday from 12:30 - 3:00.
Enrollment Fee: $299
Students must wear hard-soled shoes/boots with a heel.
Students must wear safety helmets (We will sanitize them).
No sneakers, sandals, shorts or capris.
Each student must provide and wear their own mask.
2021 Registration Form
New Camp Protocol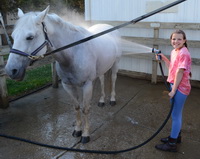 June 7 - June 11 *This camp is full*
June 14 - June 18 *This camp is full*
June 21 - June 26 *This camp is full*
July 12 - July 16 *This camp is full*
July 19 - July 23 *This camp is full*
July 26 - July 30 *This camp is full*
August 2 - August 6 *This camp is full*
August 9 - August 13 *This camp is full*