Julie R. Taylor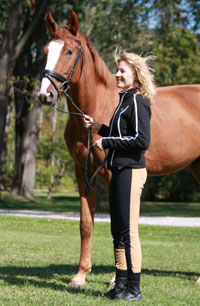 Julie Taylor is the owner and trainer of North Crest Equestrian Center located in Avon Lake, OH. Julie is a bronze and silver medalist in the USDF (United States Dressage Federation). She has competed successfully at Prix St. George and Intermediare I in Wellington, FL, at the prestigious Dressage at Devon show, in Regional Championships and in the Midwest. Julie Taylor has won many Horse of the Year awards in her competitive career. Julie has also started many young horses and brought them along through the levels. Julie has trained with USEF (United States Equestrian Federation) long list trainers, Michael Barisone, George Williams and Nancy Smith.
Julie spends most winters in Wellington, FL, training and showing with the best horses and riders in the country. This time in Florida also serves as "Continuing Education" with numerous seminars, clinics and ringside observation. Julie is able to bring more knowledge and training techniques back to her students.
Julie Taylor has many students who are in training with their horses and showing competitively. Julie also specializes in the "once a week" student that just wants to learn, progress and enjoy the "art of dressage". Julie's goal is to provide lessons and training for both the horse and the rider. To develop their own athletic skills and fitness levels, in a correct and safe manner, while striving to meet their own personal goals.
Julie's forte has been in working with adult amateur riders who have either full-time jobs at home or at the office. People who want some "special time for themselves" in order to relax, learn to rider better and enjoy the socialization at the barn without the pressure of having to be there everyday. It is never too late in your life to begin to enjoy riding and working around these wonderful animals!
Julie also has a special talent for training young or uneducated horses for their owners. She has trained all different breeds of horses such as Thoroughbreds, Quarter Horses, Arabs, Warmboods, and draft breeds to be better riding horses for their owners through understanding, cooperation and guidance. This method of schooling the horse and rider has proven to bring out the best in each partner.